For Immediate Release:
RF Awards Top-Class Teachers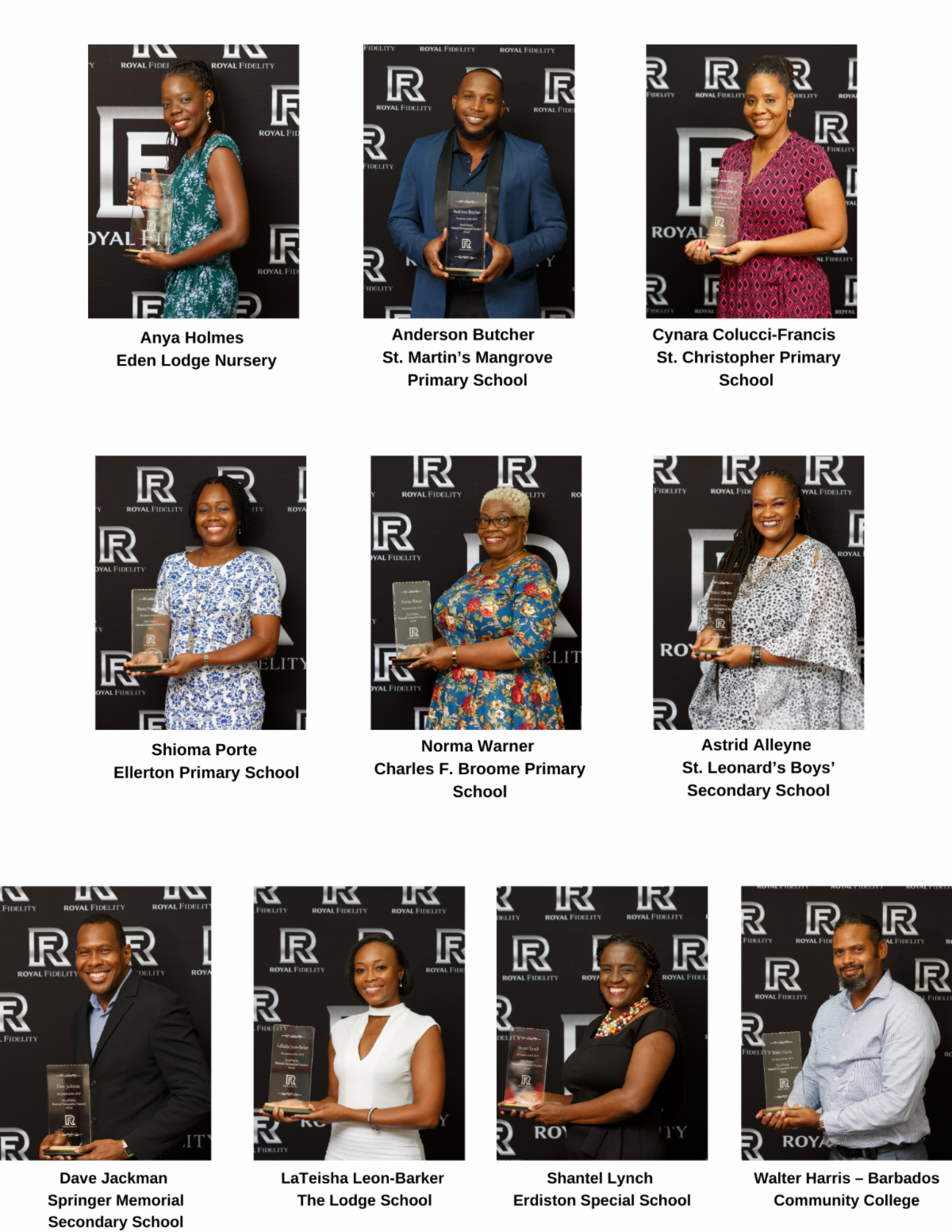 June 26, 2020 (Bridgetown, Barbados) RF has awarded ten of Barbados' top teachers to culminate the 2019 RF National Distinguished Teachers' Awards programme hosted in association with the Ministry of Education, Technological and Vocational Training. The RF National Distinguished Teachers' Awards, established in 2010, constitute the investment bank's flagship corporate citizenship initiative which acknowledges the immense contribution teachers make towards Barbados' development.
According to Jillian Nunes, RF's Vice President and Barbados Country Head, "We are all going through an incredibly trying time and hearing these teachers express their passion brings some much needed joy. During times of uncertainty it's these feel good stories that bring us together as a community.".
She further noted "The inception of the RF National Distinguished Teachers' Awards was based on the understanding that great teachers inspire greatness in students, and accordingly should receive acknowledgement for their sterling service; especially those efforts which involve going above and beyond to motivate students. Deservedly so, great teachers must be lauded for their role in shaping this nation by educating our future leaders."
Members of the general public including fellow teachers, school administrators, parents and students were invited to nominate teachers with no less than five years teaching experience across both public and private schools. The 'Blue Ribbon Judging Panel', comprising retired Principal of The St. Michael School and Chief Judge Shelton Perkins, Dr Sylvia L. Hackett, retired Deputy Principal of the Barbados Community College and Beverley Parris, former Principal of Lawrence T. Gay Primary School chose ten (10) outstanding teachers who exemplify excellence in education.
The winners were awarded BDS $2,000 each and the title, "2019 RF National Distinguished Teacher" as follows:
Nursery School
Anya Holmes – Eden Lodge Nursery
Primary School
Anderson Butcher – St. Martin's Mangrove Primary School
Cynara Colucci-Francis – St. Christopher Primary School
Shioma Porte – Ellerton Primary School
Norma Warner – Charles F. Broome Primary School
Secondary School
Astrid Alleyne - St. Leonard's Boys' Secondary School
Dave Jackman – Springer Memorial Secondary School
Sixth Form
LaTeisha Leon-Barker - The Lodge School
Special Needs
Shantel Lynch – Erdiston Special School
Tertiary Institution
Walter Harris – Barbados Community College
Ms. Nunes continued, "We are delighted to induct another group of exceptional teachers into the RF National Distinguished Teachers' Hall of Fame. We also congratulate Queen's College for submission of the most nominations and were pleased to present the $500 prize to Principal Dr David Browne on behalf of the school."
Sabrina Howard, Business Development & Marketing Officer of Co-operators General Insurance Co. Ltd. commented on the company's $2000 sponsorship of the 2019 RF National Distinguished Teachers' Awards. "We are aware of the immeasurable mark teachers make by empowering students to surmount any challenges faced as they aspire for excellence. Supporting the RF National Distinguished Teachers' Awards certainly gave us the opportunity to formally recognize the important role of Barbados' teachers and the positive impact they have on our youth."
##
---
About RF
Since inception in 1997, RF has been committed to helping clients create and manage wealth. We are your local private bank connecting Barbados, The Bahamas and the Cayman Islands with the best in local and international investments. Collectively, we have helped clients raise in excess of USD $1.8 Billion in capital and we have $2 Billion plus in assets under administration. Offering a wide range of investment products and services in the Caribbean, our financial solutions are designed to help individuals and corporate clients meet and achieve their investment goals. These include Mutual Funds, Investment Management, Investment Banking, Group & Personal Pension Plans, Personal Retirement Accounts, Stock Brokerage, Trust & Estate Planning and Educational Investment Accounts.