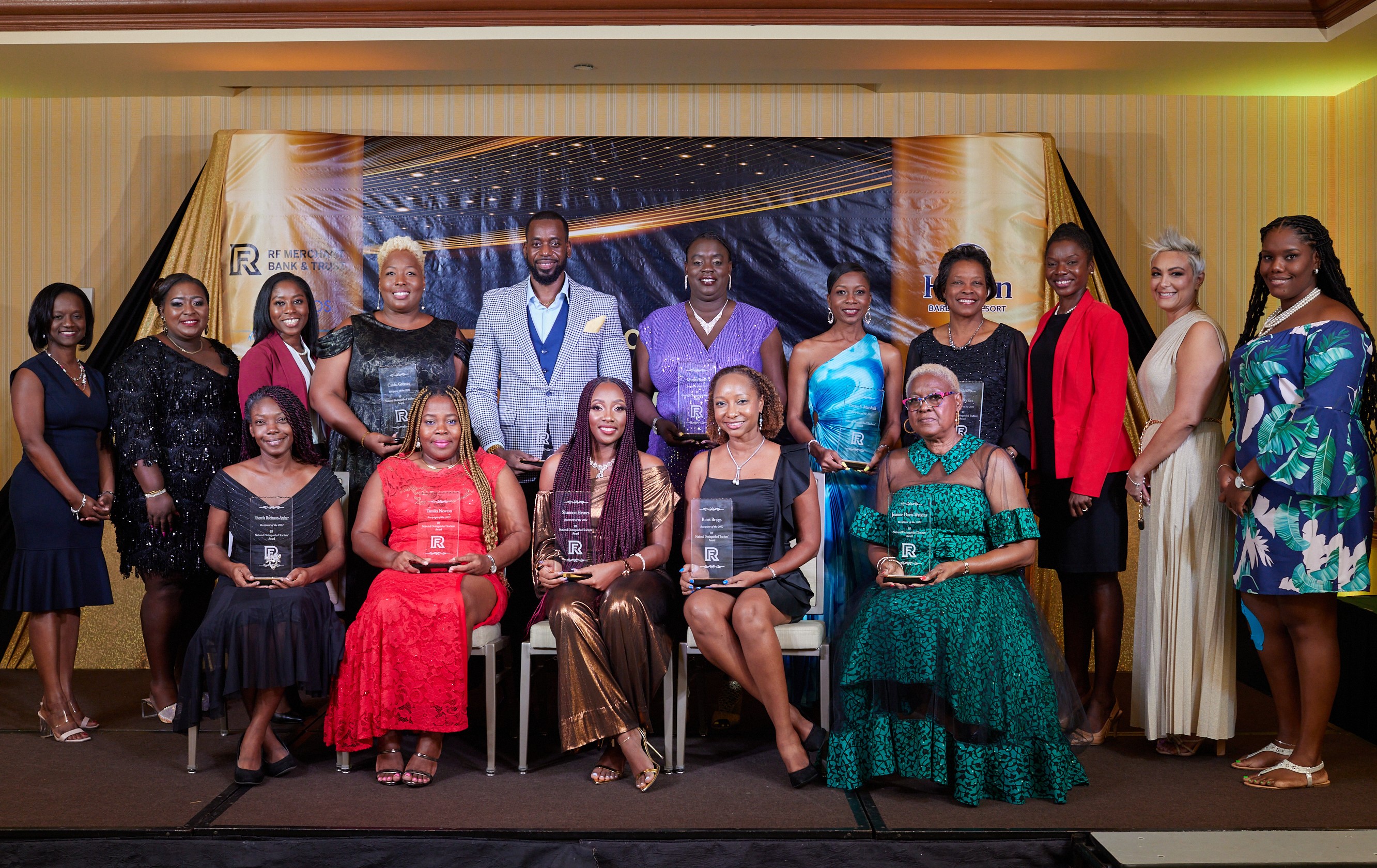 Photo Caption: RF NDTA recipients alongside sponsors and the Chief Education Officer
(Bridgetown, Barbados) RF Merchant Bank & Trust (RF) recently inducted ten exceptional teachers into the RF National Distinguished Teachers' Awards hall of fame. At an awards ceremony held at the Hilton, the winners were presented with their awards and recognized for their outstanding service by their peers, Ministry of Education and Vocational Training, sponsors and more.
The annual Awards included educators from nursery, primary, secondary, and special needs categories. This was also the first year that nominations were open for the top principal in Barbados. Dr. Ramona Archer-Bradshaw, Chief Educational Officer at the Ministry of Education brought opening remarks to congratulate the awardees.
"We at the Ministry of Education use this occasion to reiterate our gratitude to our teachers who have persevered and excelled during these challenging times," noted Dr. Archer-Bradshaw, Chief Educational Officer at the Ministry of Education. "I implore you, and your colleagues across the teaching profession, to give your best efforts at all times to ensure that our children develop the knowledge, attitudes, skills and values that are necessary for improving their lives and contributing to rewarding livelihoods."
Winners also received prizes including a share of $20,000 and Hilton gift certificates. Awardee videos were compiled to commemorate the occasion and highlight the unique attributes of each educator. Those videos will be available in the coming days on the RF YouTube channel: @rfbanktrust. The award show will be aired in its entirety via RF's Facebook and YouTube channels on Thursday February 9 so family, friends and students can take part in celebrating their teachers.
"While those of us outside of the profession may not be able to fully conceptualize the sacrifice made by tonight's winners and all the other extraordinary teachers in Barbados, we can all appreciate how valuable their contributions are to the growth and development of our nation," commented Jillian Nunes, President and CEO of RF Merchant Bank & Trust (Barbados) Ltd. "We applaud you for going above and beyond the call of duty, for stepping outside of your comfort zones, for facing unprecedented challenges head on and doing whatever it takes to ensure positive outcomes for Barbados' youth. Know that you are all heroes in your own right."
The 2022 RF NDTA program was supported by several local partners who wish to recognize excellence amongst teachers. They include CBC Radio and Mornin' Barbados and sponsors CIBC First Caribbean International Bank, Hilton Resort, Housing Concepts, Barbados Today, Cooperators General Insurance, Consumers Guarantee Insurance, Kooyman, BICO, and Pan American Insurance. Other businesses that helped make the Awards possible include A Rich Media Productions, Premiere Events, Blades Trophies and Intelligent Lighting.
For more information on the RF NDTA, please visit: www.rfgroup.com/barbados/ndta
The 2022 RF National Distinguished Teachers
NURSERY
Caisha Greaves of Maria Holder Nursery
Rhonda Robinson of Debbie's Little Angels
SPECIAL NEEDS
Joanne Davis-Walker of Eagle Hall Primary
PRIMARY
Marsha Burke of St. George Primary School
Rinet Briggs of Blackman Gallop Primary School
Tamika Newton of St. Paul Primary School
SECONDARY
Patrice Marshall of Parkinson School
Shannon Haynes of Harrison College
Marko Scantlebury of St. George Secondary
PRINCIPAL
Julia Beckles of the Combermere School
SCHOOL WITH THE MOST NOMINATIONS
Will's Primary School.
###
About RF
Since its inception in 1997, RF has been committed to helping our clients create and manage wealth. We are your regional private bank connecting clients in The Bahamas, Barbados and the Cayman Islands with the best in local and international investments. Collectively, we have helped clients raise in excess of USD $2.2 Billion in capital and we have $2 Billion+ assets under administration. Offering a wide range of investment products and services, our financial solutions are designed to help individuals and corporate clients meet and achieve their investment goals. These include Mutual Funds, Investment Management, Investment Banking, Group & Personal Pension Plans, Personal Retirement Accounts, Stock Brokerage, Trust & Estate Planning, and Educational Investment Accounts.
For more information, please visit http://www.rfgroup.com and follow us on Facebook @rfbanktrust
MEDIA CONTACT
Rachael Allahar
Group Head of Marketing
RF Bank & Trust
603-6000
Rachael.allahar@rfgroup.com