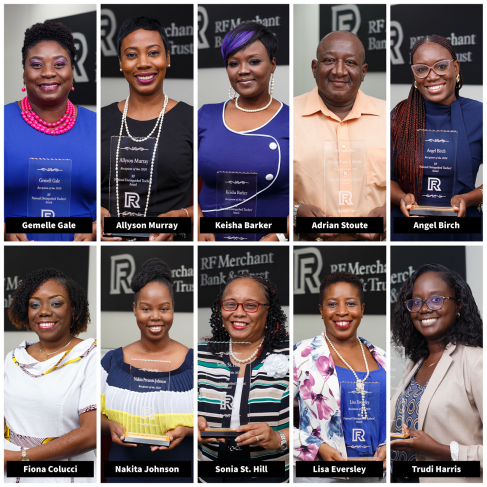 (Barbados): RF Merchant Bank & Trust (Barbados) Limited ("RF"), recently announced the winners of the 2020 RF National Distinguished Teachers Award (RFNDTA). The winners were selected for their outstanding contributions to education and represent various academic levels, from nursery schools to tertiary institutions.
Addressing the winners at the recent RFNDTA awards ceremony, Lamar Goring, RF Brokerage Manager, commended the teachers for their unwavering commitment to their students despite the unprecedented challenges of the 2020-2021 academic year. "Despite the chaos of COVID 19, and lately, volcanic ash, educators like you are proof that the future our nation's youth is secure. Not only have you all risen to the occasion and taken the bull of virtual learning by the horns, but you have gone above and beyond the call of duty to help your students, their parents, your colleagues, and the wider community navigate through this new normal."
Also offering congratulatory comments was Senator Dr. Romel Springer from the Ministry of Education Technological and Vocational Training. He not only commended the winning teachers for their significant and positive contributions, but also to RF for recognizing over 100 outstanding local teachers through the awards program. He noted that "we must pause to reflect on the magnitude of the contributions of teachers within the context of the impact of the COVID-19 pandemic".
The 10 teachers were shortlisted based on nominations from students, parents and other members of the community. The top ten were then selected by a 'Blue Ribbon' Judging Panel comprised of retired educators. The winners were officially announced at a virtual awards ceremony held on Thursday July 8, 2021. They are:
Angel Birch - Eden Lodge Nursery School
Gemell Gale - St. Giles Nursery
Keisha Barker - Ellerton Primary School
Nakita Prescott-Johnson – Ellerton Primary School
Fiona Collucci - St. Matthews Primary School
Lisa Eversley – Queen's College
Sonia St. Hill - The Lodge School
Trudi N. Harris – Charles F. Broome Special Unit
Allyson Murray - Grantley Adams Memorial School
Adrian Patrick Stoute - Samuel Jackman Prescod Institute of Technology
The awardees each received a commemorative trophy and $1,500. The will also be featured on the RFNDTA Hall of Fame on RF's website.
For more information on RFNDTA, visit www.rfgroup.com.