Finally! A plan that is as unique as you are.
Take advantage of the most flexible retirement plan in the market!

Introducing the most flexible retirement solution
It is a common misconception that an annuity is the only option for financial security in retirement. However, unlike annuities and other pension payment options, the RF Personal Retirement Account gives you control over your pension account while helping you grow your retirement savings. This means you decide how much and when you receive pension payouts, whether it is monthly, quarterly, semi-annually or annually,or whether you leave your money invested without taking any income at all.
We are able to customize each account to meet your needs, including providing:
A wide range of attractive investment options with the flexibility to change investments;
The flexibility to choose when, how much and how frequently to receive your pension payments;
The flexibility to add and withdraw funds to and from the account as you wish;
Prompt transfer of the balance of your account to your beneficiaries in the event of your death.
Grow your retirements savings
Get access to some of the best performing Mutual Funds in the market. In comparison to a bank deposit or an annuity, the account can help you gain the returns on your retirement savings to keep you living life on your terms. The below chart serves as an illustration.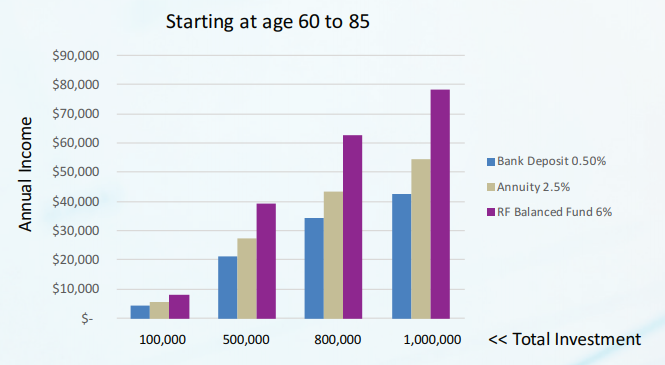 Chart is for illustrative purposes only. This estimate is based on a number of quotes but actual rates may differ depending on the gender and health of the purchaser.
Common Questions About the RF Personal Retirement Account
Do I have to withdraw funds? No, you do not have to take an income. You can leave your pension savings invested until you need them.
Is there a minimum initial investment amount? Yes, $100,000 and the minimum amount you can hold in your account before it is terminated is $10,000.
How much income can I take? There are no restrictions on the amount of income you can take. Please note that if you take high levels of income, you risk depleting your pension savings too early.
How is my income paid? Income can be paid monthly, quarterly, semi-annually, annually or on an ad-hoc basis and is paid directly to your chosen bank.
Can I pass on my Account after I die? Yes, you can. When you set up your account, you will be asked to indicate a beneficiary or beneficiaries who will receive your remaining pension savings when you die. You can nominate more than one beneficiary and you can change your beneficiaries at any time.

Where are my savings invested? As a Bahamian or temporary resident in The Bahamas, you can invest in one or a combination of up to four Investment Funds out of the six available Investment Funds. We regularly monitor and review the portfolios of the Investment Funds on your behalf to ensure they continue to meet their investment objectives.
Keeping track of your retirement account
We offer free online access where you can see -
All transactions within your Retirement Account;
Account balances and details;
Your investment history.
Is A Personal Retirement Account Account Right For You?
The Account is suitable for you if you:
Have at least $100,000 to invest;
Want to have a choice of attractive investment options;
Want flexible income payments;
Want to keep your retirement savings invested;
Want to add funds when they become available;
Are willing to take the risk that the value of your savings could go down.
The Account may not be suitable for you if you:
Have less than $100,000 to invest;
Want guaranteed income payments for life;
Want to withdraw all of your funds over a short period of time;
Do not want to take the risk that the value of your savings could go down.
How to begin
Starting your own RF Personal Retirement Account is as simple as calling one of RF's qualified financial advisors and requesting a meeting. They will help you customize a solution that meets your needs.
Click here to learn more about an RF Personal Retirement Account.