"A Future of Boundless Possibilities…"
As soon as your child is born, you begin imagining what his or her future will hold.
You await the first word, watch for the first step, and try to envision what they will grow up to be. Whatever that is, it's likely to require a college degree. So as your child takes the first steps toward the future, it's important that you take the first steps toward seeing that a college education will be a part of it.
The RF Educational Investment Account (EIA) is a flexible and effective way to prepare for future educational costs. The EIA provides access to our family of mutual funds and allows the flexibility to invest according to your personal investment risk preferences, all through a single account.
How Much Can I Save?
Although saving for college might feel unattainable, it's far more possible when time is on your side. That's why starting early is so important — half of your savings years will have passed by the time your child is in the second grade. When you start early, you can take advantage of the power of compounding. A compounding effect occurs when any accrued interest or earnings in turn collect additional interest or earnings. The earlier you start, the more opportunity your money has to grow.
The amount will be different for each investor, depending on the amount of time until enrollment, private or public school, as well as any supplemental assistance afforded. One thing is certain, however: It will cost more for an education tomorrow than it does today.
Investing just $500 a month will yield the following over time: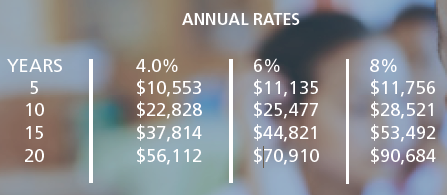 Note: Values given are projections only, actual returns may vary and can go up as well as down.