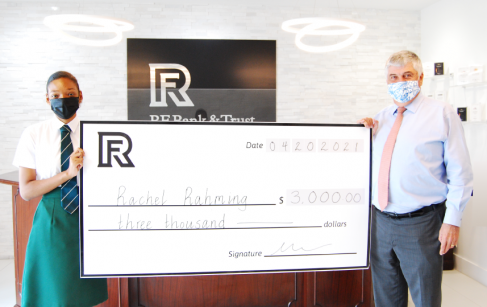 (NASSAU, BAHAMAS): RF Bank & Trust (RF) awarded a high school student with $3,000 towards her educational savings as part of its Junior Investment Education Program in conjunction with Junior Achievement Bahamas (JA). Queens College student, Rachel Rahming, was the winner for the 2018-2021 cycle. The program was launched in 2018 with the goal of helping students understand the value, features and process associated with investing and use this knowledge to build future financial security.
The RF Junior Investment Education Program encourages JA students to take control of their college savings by investing funds consistently for this purpose. Students had to make monthly contributions to their Educational Investment Account for a three-year period. During this time family and friends could also contribute to their account. At the three-year mark RF matched their balance, up to $3,000.
RF President and CEO, Mr. Michael Anderson congratulated Rachel and her parents, Patrick & Paulette Rahming, and added that consistency is the key to successful investing.
"The purpose of our partnership with JA is to create a culture of investing among our youth. We want to give them the tools to successfully create and manage wealth so that they can lead financially independent lives, and thereby positively contribute to the wider economy. I believe we've made strides toward this goal, evidenced by Rachel and her commitment to the investment program. We commend her for what she has accomplished over the past three years," he said.
Along with the investment program, RF also facilitates an investment simulation game. In the game, each JA company is assigned an investment portfolio of $100,000 in notational funds. Students are then challenged to determine the best ways to manage the funds for the best possible returns with the guidance of the RF Investment Speciailists.